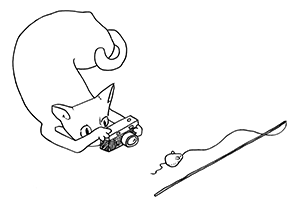 Growing up in an artistic family with a rescue mutt as an older brother, John spent his early life in the presence of dogs and cats, acquiring the art of the squeaky toy and of the dancing string on a wand. After pursuing a visual arts degree at Oberlin College, he combined his passion for photography and animals in the creation of John Hensel Photography.
John's work has been displayed at MSPCA-Angell Animal Medical Center and Polka Dog Bakery. He has given back to the community through support to local animal charities, donating sessions for fundraising to the MSPCA, Last Hope K9 Rescue and the Somerville Dog Festival. In addition to his individual client sessions, John has worked with businesses such as Boston Red Dog, Crate Escape, Riverdog, and the Som|Dog community organization.
As a visual artist, John has recently had work in a two person show at the University of Minnesota, and in a show at the Waterfront Artists Coalition in Brooklyn. John's art can be found at his art website johnhensel.net.