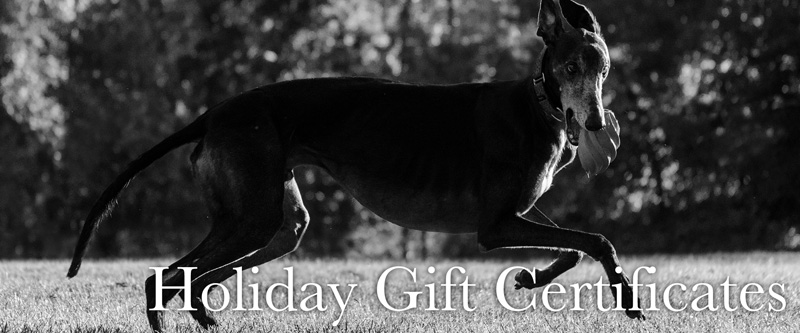 Holiday Gift Certificates in two options: my Standard Session offered with a card featuring a dog or a cat, and my Seasons Portraits package:
My Standard Pet Portrait Session which is one to two hours of portraiture at locations of the recipient's choice. The gift certificate is $500 and includes $250 in print credit. Cards available featuring the lovely and athletic greyhound Gatsby in a run or the languishing Sheena the maine coon taking up all the room on her owner's bed.
And the Seasons Portraits package. Taking place over three sessions to capture their animal frolicking in the grass, leaves of autumn and the snow, or as their puppy or kitten grows into their paws over their first year. This is $1000 and includes $400 in print credit. The card features the beautiful Bodi perched atop rocks in his favorite park.
To purchase online simply use one of the "Buy Now" links below, they will send you to a secure checkout page through PayPal. The 5×7 Gift Certificate will be mailed to you with an envelope of your choice to give to a loved one in style.
Contact me for more information about any of the sessions.
---